Rover doodles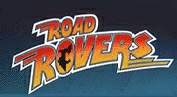 This page was last updated on October 2, 2001.

Well, it's not Van Gogh, but I guess it'll do. This is my page of Rover-related art. If you want some of your art added,
E-mail
me. A few rules, though. Nothing erotic or pornographic will be allowed. Also, if it contains violence, let's keep it within the PG-13 limit. (Artwork by other artists is located at the bottom of this page.)
Enough of my blather, on to the art!
Art by me
RallyOrig
- My first attempt at drawing. Here is Rally, my first character. Looks like someone said something he didn't like... or maybe just something incredibly stupid. [Rally is (C) Me.]
RallyCo
- A colorized version of the pic above. I added teeth and a mid-chest line for more realism. [Rally is (C) Me.]
Sniper
- A pic of Rally and Stephanie's son, Sniper, second-in-command of the X-Rovers. Hmm... I wonder who he's about to kill. [Sniper is (C) Me.]
Blazer
- Here is Hunter and Colleen's son, Blazer, who is the leader of the X-Rovers. He is wearing his father's trademark happy-go-lucky smile. [Blazer is (C) Me.]
Pyro
- This is a pic I promised to do for my best friend and fellow author, Alex Carter. She said to put her character in a "comic" situation. This is what my twisted mind came up with. She was very pleased with how it came out. The scary thing is that this pic is very true about Toby. [Toby is (C) Alex Carter. Pic is (C) Me.]
First Encounter
- As my buddy DJ said when commenting on this, "DJ's hacked and Rally's hurtin'." This is a scene from my first story entitled "Brothers: Reunited At Last" that I started back in December 2000 and just got done with. (The pic, not the story.) The almost 7 months of work really payed off. [Rally is (C) Me. DJ is (C) Jake Williams. Pic is (C) Me.]
(A "framed" version of this pic can be viewed
here
.)

Tribute to 9-11-01
- Tribute picture I drew in honor of those who died on September 11th. [Rally is (C) Me.]
Art by others