Places to go, people to see...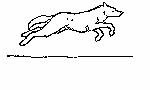 Leaving already? Oh, all right. Here are some places you can go.
If you want your link added,
E-mail
me.
If you would like to link to my site, please ask me first. Also, feel free to use this banner.

This page was last updated on July 4, 2001.
DJ's Road Rover Page
- This is the page of Jake "DJ" Williams. This guy has a great page and is a good friend. He is the one who helped me to officially get started in the fandom. A great guy with a great site. Definitely worth a look. Go there now!
Duncan Sparks' Vulposapien Realm
- The page owned by my good buddy, Duncan. He doesn't have much now, but expect it to grow immensely in the near future. (Currently down for renovation.)
Dylan's Road Rover Page
- An excellent site by the multi-talented Dylan Rinald. He does it all: Art, stories, etc. Definitely worth a visit!

(Gerhard Naudé's Page) - This guy has lots of talent and shows it well. Creator of the KH Military and the Iron Fist Series, he has written a bunch of fan-fics and is currently working on more. (And these aren't stories you can finish in half an hour, either. They're very detailed.) He also has a large collection of art. Check it out now!
Razor's Den
- A site by yet another great talent. This is the page of Bayson Wolfie, the werewolf. Do him a favor and stop by.
Shanghai's Page
- A collage of different pictures. Road Rovers, other furs, and even anime. Check it out. (Some pics may not be suitable for younger viewers.)